Return and Shipping Policies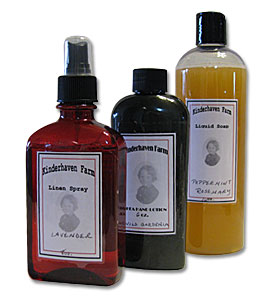 We do our best to create fresh, wholesome products; however, occasionally a customer may experience an allergic reaction to one of our creations. Please read ingredient lists carefully; if you are aware of any previous problems with an ingredient in a given product, please avoid use. If you experience an allergic reaction to one of our products, discontinue use immediately. We cannot accept responsibility for improper use of any of our products. While our products are safe for use on children, for your peace of mind and their safety, do not allow children unsupervised use of our products. Exercise caution when burning candles; keep away from children and pets.
Please allow two weeks for delivery; in most cases, we ship within three days. However, it may take longer if we are making a fresh batch of product or doing a special order for you. Soaps may take up to a month to allow adequate curing; if this occurs, we will notify you as soon as possible.
We make every effort to meet and exceed your expectations when you order from us. Please be sure that your order is accurate and complete BEFORE you send it. Due to the nature of our products, we are unable to accept returns unless we have made an error in filling your order. In the event of our mistake, we must be notified within three (3) days and arrangements made to return the product(s) to us within ten (10) days. Products must be received unopened with seals intact and be suitable to resell. Absolutely no refunds or replacements will be issued on unauthorized returns.
Your order will be carefully packed for shipping. We will not refund or replace damaged shipments if you choose not to insure. We must be notified within 48 hours of receipt of your order if it is damaged. All packaging must be retained for seven (7) days on damaged orders to file a claim with the carrier.
We ship within the United States, its territories and Canada. We reserve the right to refuse service at our discretion.