Natural Choice Deodorants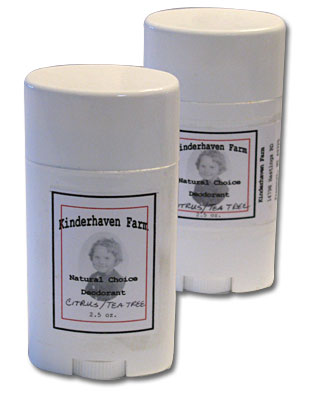 We have tried many natural deodorants, only to be repeatedly disappointed. This is one that really works, even when the temperatures climb high. It is an aluminum-free formulation; it is NOT an antiperspirant. We offer three great fragrances; all work equally well for us.
NOTE: Due to the coconut oil/beeswax base of this product, we recommend wearing it with machine washable clothing.
Available scents:
Grapefruit & Sage - Patchouli-based fragrance
Citrus & Tea Tree - Lavender, litsea cubeba & tea tree
Fern & Moss - Oakmoss, patchouli & lavender
Jasmine
Orangeflower Lavender
Patchouli
2.5 oz. tube.
$7.50 each.
Ingredients: Coconut oil, beeswax, palm kernel oil, essential oils, zinc oxide, glycerin, kaolin clay, sodium bicarbonate, arnica infused olive oil, castor oil, wheat starch, vitamin E.