Privacy Policy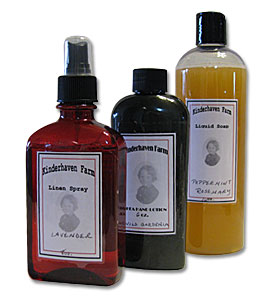 EFFECTIVE AS OF August 1, 2008
Welcome to Kinderhavenfarm.com. This Web site is owned and operated by Joy Castonguay of Kinderhaven Farm., Grand Rapids, Michigan, USA.
This privacy statement is designed to help you understand how we use and safeguard the personal information you provide to us.
Information That We Collect
When you visit our Web site, you may provide us with information in different ways. For example, fill out a form, order a product, or sign up for our newsletter. Additionally, we collect information on an aggregate basis as you and others browse our web site.
The types of information we ask for varies with the service you request. In addition to your name and contact information, we may ask for other information, such as purchase and credit card information if you purchase a product.
How We Use the Information
In general, we use the information you provide in order to:
respond to your requests for information
provide the services you request
provide customer service
fulfill your purchase requests
If you purchase a product or service on our site, you may provide us with a credit card number. This credit card number will only be used to process your purchase. We will not disclose credit card numbers to third parties for marketing purposes under any circumstances except as needed to complete your purchase.
In general, it is our policy to keep information within the Kinderhaven Farm marketing activities. We will not share personal information about you with unrelated companies except as needed to complete your transaction. However, we may disclose any information when legally compelled to do so or when needed for the protection of our legal rights. For example, we may disclose information about you in response to a subpoena or government investigation.
Opting Out of the Kinderhaven Farm Mailing List
We only want to send you information if you want to receive it. By joining our mailing list or by sending us a question via our form you may be added to our mailing list for marketing purposes. You may opt out of receiving additional or future information from us by requesting removal from our email lists. You may also opt out of receiving any printed materials, please e-mail us and let us know what you do or do not want to receive from Kinderhaven Farm.
Cookies and Web Site Information
Like most other commercial websites, we use standard "cookie" technology and web server logs to collect information about how our web site is used. Cookies are small pieces of data that are stored by your web browser on your hard drive. The cookies allow our web servers to recognize the computers used to access our websites. Cookies allow you to move from page to page on the website, by remembering the information about the entire session.
Information gathered through cookies and by our web server logs may include the date and time of visits, the pages viewed, time spent at our Web site, and the Web sites visited just before and just after our Web site. This information is collected on an aggregate basis. None of this information is associated with you as an individual.
How Do We Secure Information Transmissions?
If you purchase a product from us, we will ask for a credit card number. These transactions are secured using licensed secure server software from a third-party vendor which encrypts the information you provide.
Additionally, we periodically review our operations and business practices for compliance with policies and procedures governing the security, confidentiality and quality of our information.
Contact Us With Any Questions
If you have any questions about this privacy statement, the practices of our websites, or your dealings with this web site, please contact us.