Goat Milk Bar Soaps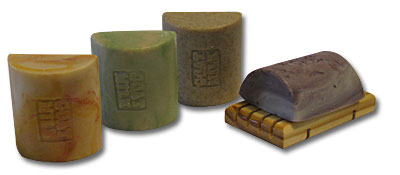 We have been producing fine goat milk soaps for over 15 years. We hand-make our soaps from high-quality vegetable oils and pure, fresh goat milk with careful attention to fragrance and appearance. Soaps are colored with botanicals, spices and pigments, occasionally incorporating oats, cornmeal, fruit seeds, apricot kernel meal and ground vanilla beans for texture and exfoliating properties.
We are proud to offer a selection of mild, gentle soaps and are sure that you will agree that they are the finest around! Tested on our human friends; safe for use on our animal friends.
Bars weigh 4.5 – 5 oz.
$6.65 each

Ingredients: Palm & coconut oils; goat milk & water; sodium hydroxide; olive, rice bran, soy & sunflower oils, flax seed & palm kernel oils; unrefined shea butter, silk fibers.

Click the product images for larger views of the products.