Liquid Soaps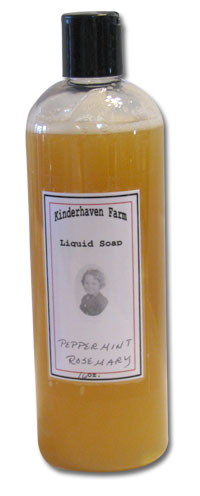 Our liquid soaps are formulated with all vegetable oils; no enhancers or stabilizers are used. They are naturally a golden color; we add nothing for colorants.
The soaps are highly concentrated.While you can use them straight from a dispensing bottle, we find them very economical to combine 1-2 parts soap and top off with water in a foam-dispensing bottle. A great choice for you and for our planet.
Tested on our human friends; safe for use on our animal friends.
Currently available in 4 scents:
Peppermint Rosemary
Lemongrass Patchouli
Lavender
Lavender & Tea Tree
Packaged in a 16 oz. bottle.
$14.00 each.

Ingredients: Water, coconut, olive and castor oils; potassium hydroxide, palm oil, sodium hydroxide, borax, glycerin, essential and/or fragrance oil, vitamin E.